Kosovo Center of Diplomacy

Kosovo Center of Diplomacy (KCD) is a non-profit and non-governmental organization, established on 28th October 2012, headquartered in Pristina, Kosovo. Through its activities, the KCD with its projects and activities is committed towards human rights and minority rights, transitional justice and peace building as diplomatic tools, as well as migration issues, mainly concentrated in the Balkan region.
The KCD will organize professional trainings, conferences, research, publications, and collaborate with local and international experts to develop strategic partnerships with governmental and non-governmental institutions, as well as with local and international institutions. The KCD will increase the education and development of its goals.
The main mission of KCD is to extend the current research, programs and practices in the field of diplomacy, human rights, peace and conflict studies, negotiations, leadership, human rights, minority issues and migration, and to create a platform that promotes and supports the development of Kosovo.Therefore, the KCD considers that the role of scientific research, diplomatic training, professional conferences, promotion and the development of these fields as iintegral part of its mission.
Moreover, the KCD is going to collaborate and participate in discussions and negotiations with local, regional and international organizations, diplomats and governmental agents in order to contribute to the development and education of peace, politics, social and economic issues in Kosovo and beyond.
Profile of key people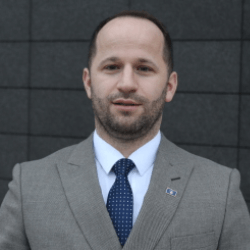 Labinot Hajdari
Founder and Executive Director of Kosovo International Summer Academy. He is also co – founder and Vice Director of the Kosovo Center of Diplomacy. Labinot is PhD candidate at University of Warsaw, Poland, Faculty of Political Science and International Studies. For the second year in a row, he is awarded with Scholarship for PhD studies, from International Visegrad Fund. Labinot completed his Master's studies at the South East European University in Macedonia, where he received a Master's degree in Diplomacy Studies (2011-2013). He has received his Bachelor's degree in Public Administration(2003-2007). Mr. Hajdari works also as International Relations Officer at the Rectorate of the University of Prishtina. Mr. Hajdari is also a freelance journalist, writing on local and international politics and diplomacy. Previously he was the Lead Editor for the Europe and Balkan region at the Czech News Agency PressEXPRESS.eu. Mr. Hajdari was also co-founder and Program Director of the Preparing Global Leaders Institute. From 2013 – 2015 he was coordinator of a regional project ''Build Bridges, Not Walls: The role of University in Peacebuilding'', a regional project supported by the Ministry of Foreign Affairs of Norway, implemented by the Norwegian Helsinki Committee. In 2014, Mr. Hajdari was appointed as Secretary of Local Organization of the 1st Itinerant Summer University in the Balkans "Accession to the European Union and identity of the Balkans" French-German-Balkanic'', an internacional project implemented in cooperation between Franco-German University, Université Paris Ouest-Nanterre-La Défense (France), Universität Münster (Germany) and University of Prishtina, Kosovo.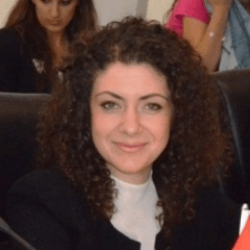 Judita Krasniqi
Ph.D. candidate at University of Warsaw, Poland, Faculty of Political Science and International Studies. She is Program Coordinator of Kosovo International Summer Academy. She obtained her Master Degree in International Relations, European Studies and Area Studies, graduated at the Institute of International Relations of University of Warsaw, Poland, and her second MA in Human Rights and Democracy at University of Sarajevo and University of Bologna. From 2013-2015 she was a full degree Erasmus Mundus Scholarship holder. Previously Judita has studied Political Science at Faculty of Philosophy and Law Faculty in University of Prishtina. During her Bachelor Studies, Judita has been an intern at the Assembly of the Republic of Kosovo, respectively Committee for Education, Culture, Youth, Sports, Public Administration, Local Governing and Media and also she has been an intern at Diplomatic Academy in Ministry of Foreign Affairs of the Republic of Kosovo. She has been engaged in humanitarian work with different domestic and international NGOs in Kosovo. Her field of study is more concentrated in Diplomacy, Decision Making, Human Rights and Conflict Resolutions.